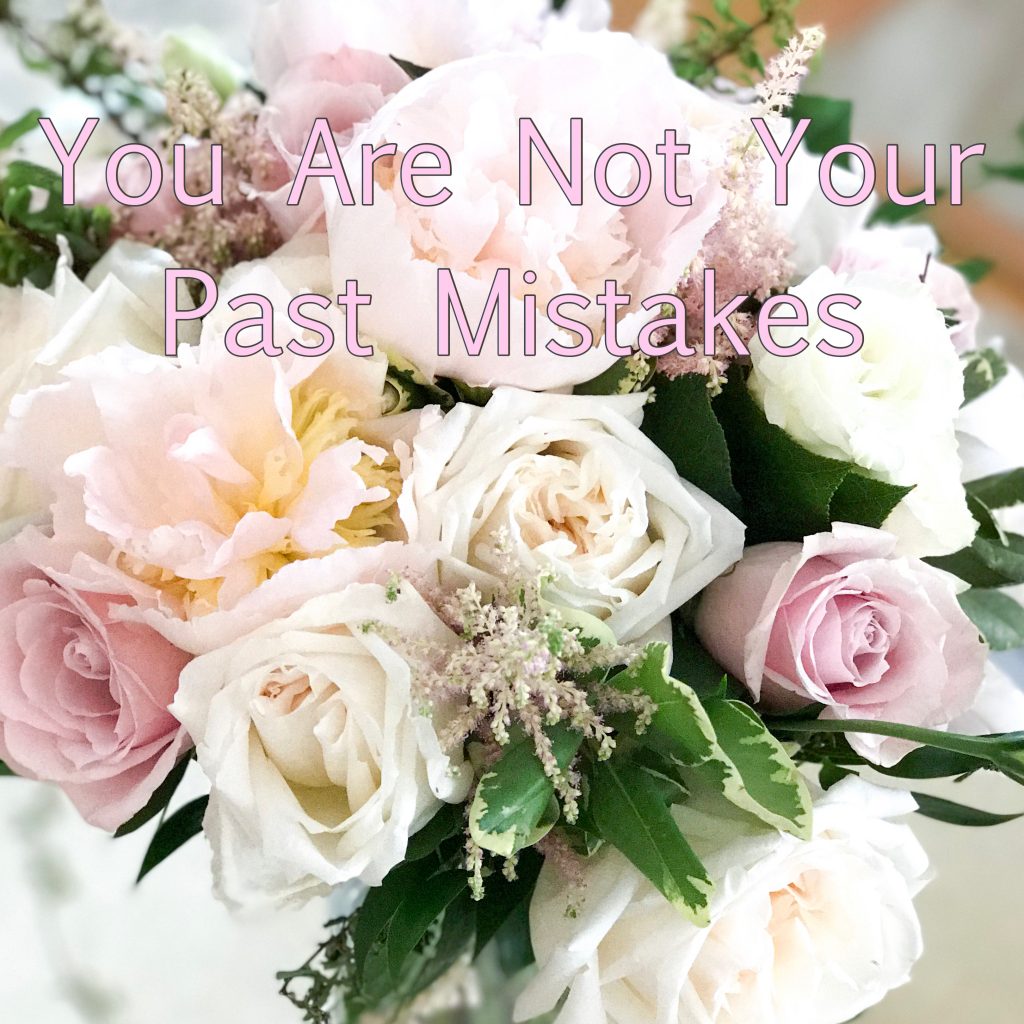 You did it again. You let yourself get to a dark place of self condemnation. You can't believe the things you did wrong. You feel like your mistakes are following you, lingering in the back of your mind. It's as if you're slowly falling, spiraling down into the deepest hole. Your only friend is your darkest sin. But you know it's really no friend at all. It's both a reminder of everything you aren't, and everything you wish you were. You want to be yourself again. That person you were before you fell. Before you chose wrong instead of right. Before you chose sin over God. But you can't go back in time and change your decision, no matter how hard you try…no matter how many times you replay the bad things you did, pretending you chose differently. So what now? Where do you go from here? You can't imagine feeling this way forever. Feeling ashamed and disappointed, broken and alone. 
Look up. In Psalm 103:12 it says, "He has removed our sins as far as the east is from the west." YOU ARE NOT YOUR PAST MISTAKES. When you turned to God and repented, He forgave you. He will NOT hold it over your head, and neither should you. I often joke about Frozen's song, "Let it Go." (I bet you're singing it now!) But that's what you have to do. Let.it.go. Don't let it hold you back anymore. God is right there with His hand outstretched, waiting to show you what HE can do. Ready to show you that what the enemy intended for evil, He will use for good. (Romans 8:28) But you have to look up. Fix your eyes on Jesus. Because God makes beauty from ashes, and we can trust in His character. He is the restoration king. That alone should bring us peace, joy and hope. 
I know it's hard though. And some days are easier than others. I remember when I came back to the Lord after doing things my way, I battled constantly with condemnation. I felt so guilty, unworthy, and to be honest I felt like I deserved to be punished for what I did. In a way you could say I struggled with accepting God's forgiveness. But what helped me was looking at the big picture. 
What's the big picture? GOD'S GLORY. 
So I began to ask myself:
"How can Christ best be glorified in my life?" 
"What do I need to lay at His feet?"
 "What do I need to let go of?"
Every time I would ask myself those questions, I realized that in those moments of inadequacy, and guilt, I wasn't setting myself up to allow God to use my past for His glory. 
Jesus loves YOU and wants to give you life. I know we hear that all the time, but He does. Just think about that for a moment. He loved you unconditionally, even when you did not care. Even when you despised Him. Even when you chose not to love Him at all. What a beautiful Savior we serve. Lay it down beautiful. Sin doesn't own you anymore. 
 So what kind of story do you want? No matter how bad things were, or still are, God can work out a miracle. "Our sin was great, your love was greater." I love that line in the worship song "What a Beautiful Name" because it's so true! Sin had a huge hold over me for years. But praise be to God that His great love conquered it! 
You were made to bring God glory. Never forget that. Rejoice in that truth! Run this race with diligence and devotion. Joyously let your life be a thank you note to God for His saving grace. Because let me tell you who you ARE in Christ:
You are…
Loved:  "Who shall separate us from the love of Christ? Shall trouble or hardship or persecution or famine or nakedness or danger or sword?" Romans 8:35 
Valued: "Why, even the hairs of your head are all numbered. Fear not; you are of more value than many sparrows." Luke 12:7
A Beacon of Hope: "How beautiful on the mountains are the feet of the messenger who brings good news, the good news of peace and salvation, the news that the God of Israel reigns!" Isaiah 52:7
Forgiven: "He has removed our sins as far from us as the east is from the west." Psalm 103:12

Free: "For the Lord is the Spirit, and wherever the Spirit of the Lord is, there is freedom." 2 Corinthians 3:17
A Conquerer: "No, in all these things we are more than conquerors through him who loved us. For I am convinced that neither death nor life, neither angels nor demons, neither the present nor the future, nor any powers, neither height nor depth, nor anything else in all creation, will be able to separate us from the love of God that is in Christ Jesus our Lord." Romans 8:37-39
Redeemed: "In him we have redemption through his blood, the forgiveness of our trespasses, according to the riches of his grace." Ephesians 1:7
Strong: "For the sake of Christ, then, I am content with weaknesses, insults, hardships, persecutions, and calamities. For when I am weak, then I am strong." 2 Corinthians 12:10  
Called: "Who saved us and called us to a holy calling, not because of our works but because of his own purpose and grace, which he gave us in Christ Jesus before the ages began," 2 Timothy 1:9
Fearless: "Fear not, for I am with you; be not dismayed, for I am your God; I will strengthen you, I will help you, I will uphold you with my righteous right hand." Isaiah 41:10
A Warrior: "Finally, be strong in the Lord and in the strength of his might. Put on the whole armor of God, that you may be able to stand against the schemes of the devil.
Never forget that. Because that alone is your identity, and it's found in Christ. 
Xo, Tay